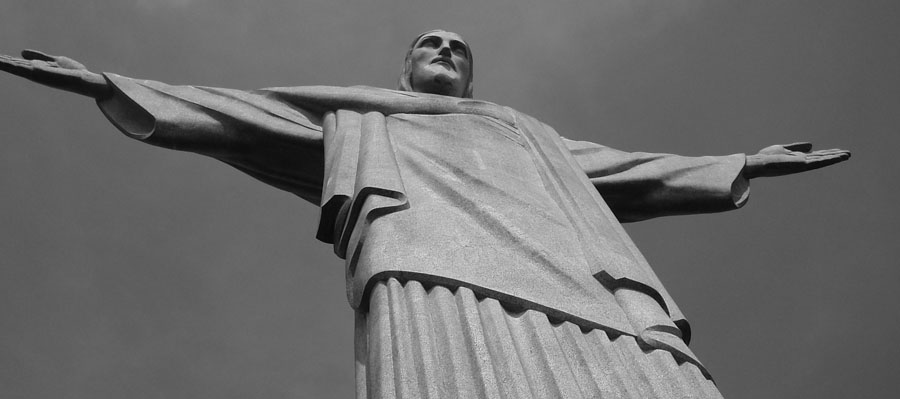 At the top of the Corcovado hill is Christ Redeemer, one of the most sought after tourist spots in Rio de Janeiro. Largest and most famous Art Deco sculpture in the world, the statue of Christ the Redeemer began to be planned in 1921 and was developed by engineer Heitor da Silva Costa over five years of work, from 1926 to 1931, the year of inauguration of the monument.
It is located in the National Park of Tijuca, 710 meters above sea level, from where one can enjoy one of the most beautiful views of the city. In all there are 220 steps leading up to the feet of the famous statue, voted one of the Seven Wonders of the World in a vote organized in 2007 by the Swiss institution New 7 Wonders Foundation. The monument is accessible via train, van or car.
To get to the monument, there is a pleasant train ride that, for twenty minutes, crosses the Atlantic Forest until you reach the top of Corcovado. To facilitate the access of visitors, three panoramic elevators and four escalators were built. The visual is dizzying, which makes the program a must see for anyone visiting the city.
---
Como chegar
By train: Tickets available for purchase by the site tremdocorcovado.com.br; in the tourist information kiosks of the Riotur in the Center (Rua da Candelária, 6) and in the Copacabana Beach (Avenida Atlântica, in front of the Rua Hilário de Gouveia); at the Corcovado Train Station at the Rio Sul Shopping Center (Rua Lauro Muller – Botafogo) and at the official box office at Cosme Velho Station. Santos Dumont Airport (Monday to Friday, from 9 a.m. to 5 p.m.); Tom Jobim Airport (Galeão)(from Monday to Friday, from 8 am to 8 pm, and on Saturdays and Sundays, from 8 am to 3:30 pm); Barra Shopping (Avenida das Américas, 4,666, store 106, from Monday to Saturday, from 10:00 am to 10:00 pm); Botafogo (Rua Voluntários da Pátria 254, from Monday to Friday, from 9 a.m. to 5 p.m.); Copacabana (Avenida Nossa Senhora de Copacabana 540, Monday to Friday, from 9 a.m. to 5 p.m. and Saturdays from 9 a.m. to 1 p.m.); AC JK (Rua Visconde de Itaboraí 20 / ground floor – Center, from Monday to Sunday, from 12h to 19h); and Largo do Machado (Largo do Machado 35, from Monday to Friday, from 9 a.m. to 5 p.m. and Saturdays from 9 a.m. to 1 p.m.).